The Year of Disappearances
Susan Hubbard
ISBN 10: 1416552715
ISBN 13: 978-141655710
Simon & Schuster
Fiction, 304 pages
www.simonsays.com
Susan Hubbard
delighted vampire lovers with her morally refined, deeply emotional tale of a young girl, half human, half vampire and wholly exiled from both cultures for the first thirteen years of her life, in her debut novel, "
The Society of S.
" The sequel,
Year of Disappearances,
reunites us with Ariella Montero and takes us inside her search for that ever elusive sense of normalcy.
Ariella's story is a voyage through adolescence, with a vampire twist – struggling to find your place in the world is hard enough as a teenager, but trying to secure a spot in two diametrically opposed cultures, simultaneously, spells trouble with a capital T. After the death of her best friend, Ari left New York, moved to Florida with her vampiric mother, where she learns more about her unusual genealogy, makes new friends, is targeted by sinister forces and becomes a murder suspect. And if this weren't enough to give Ari premature wrinkles, her father falls ill, the water is contaminated, honeybees are dying or disappearing, a vampire is positioned to run for president and her old nemesis Malcolm lurks in the darkness.
Hubbard's ability to imagine an incredibly detailed environment and fill it to the brim with really cool concepts has been a bit overdone in Year of Disappearances, there's simply too much going on, especially considering the age of the main character, Ariella. There are several creative ideas that really grabbed me, unfortunately, my excitement was short lived, as many of these ideas were reduced to not much more than an introduction… To see such innovative, fresh narrative twisting in the wind was disappointing and I hope these concepts will be revisited in future novels and fully fleshed out, utilizing Hubbard's unparalleled story-telling voice.
In a nutshell,
Year of Disappearances
is a good read, that will hold your attention and give you something to talk about around the water cooler, however, when compared to
Hubbard's
stellar performance in
Society of S
it falls a bit short. That said, I am looking forward to the next installment in this unique series, because when
Susan Hubbard
has her finger soundly on the vampire jugular, her novels grab you by the throat and barely allow you to breathe.
Read the review of The Society of S ....the first book.

The Society of S
Susan Hubbard
Hardcover - 320 pages
ISBN 10: 1416534571
ISBN 13: 9781416534570
Simon Schuster
www.simonsays.com
Intellectually provocative and absolutely addictive, Susan Hubbard's The Society of S is an intelligent work of fiction that entertains and stimulates the senses! A modern thriller that brilliantly combines an ingenious and intricately layered plot with a haunting portrait of a young girl faced with the realization that everything she knows about her family is a well fabricated lie.
A beautiful, Victorian mansion, in the heart of Saratoga Spings, New York is home to Ariella Montero and her over-protective, eccentric father. Ariella had been content living in semi-seclusion until she was exposed to life outside the mansion by the housekeeper. As Arie's friendship with the housekeeper's daughter grows, so also do the questions about her life and her place in it. The deeper she delves into her family history she discovers everything she held as truth to be lies. Her father was a vampire, her mother, a mortal...what did this mean? Disappearing after Arie was born, her mother had taken the answers she so desperately needed with her and now Arie had to find her. We follow the young Arie as she journeys throughout the south trying to put this new information about the Society of S into perspective within the confines of her own life. These are not typical vampires, they are seamlessly integrated into mainstream life, day walkers, that are as comfortable with vitamin tonics as the historic counterparts were with sinking fangs into flesh.
While twisting the plot into great knots of emotional complexity, Hubbard has crafted a perfect mix of fascinating detail and provocative dilemma. The lyrical voice utilized throughout adds an exceptional quality to this beautifully written, coming of age story that goes inside the questions that have plagued humanity since the dawn of the world. Hubbard explores these with a refreshing eye for detail and patiently allows the character to fulfill her destiny without rushing the story, nor dragging it out with unnecessary wording. Gorgeous settings immerse the reader in a three dimensional environment, populated by believable, well rounded characters that are filled with the emotion and passion that makes mythology so enticing. The indefinable quality within Hubbard's writing that gives it that extra special zing is simply the fluidity with which the characters interact and how easily the reader becomes a part of their world. Ariella's pursuit of knowledge captures the imagination on a basic human level and takes us on a riveting journey that remains in the heart and mind of the reader long after the book has been closed.
This is a wonderful book, don't miss it! Undoubtedly Hubbard's name will be added to the must read lists of vampire/mythology fans world wide. And with the characters and the Society of S story being shaped with just enough mystery remaining in the clues to allow for an exciting sequel, literary fiction lovers have much to look forward too from this author's talented pen.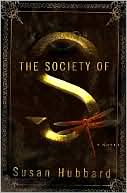 Happy Reading,
RJ