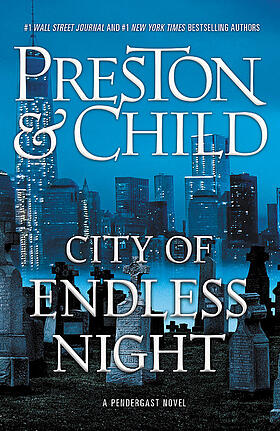 City of Endless Night
(#17 Pendergast series)
written by Preston & Child
read by Rene' Auberjonois
Published by Hachette Audio
Visit Preston & Child's Website
Here


Synopsis:
What begins as a manhunt for the missing daughter of a wealthy tech billionaire becomes something altogether different when the young woman's body is discovered in an abandoned warehouse in Kew Gardens, Queens, the head nowhere to be found. Soon it becomes clear there are at least two killers on the loose--one responsible for the young woman's death, another responsible for the mutilation. A pair of such dastardly killers requires a team of equally talented investigators. Luckily, both Vincent D'Agosta and Special Agent Pendergast are back in town.

D'Agosta hopes that this latest case will distract Pendergast from Constance Green's decision to depart New York for Tibet after the events of THE OBSIDIAN CHAMBER--and provide Pendergast the opportunity to work a case back on his home turf for the first time in years. But neither is prepared to face a team of killers as diabolical as this. It will take all of Pendergast and D'Agosta's intelligence and strength simply to match wits with their latest adversaries--let alone stay alive.
---
---
My Review: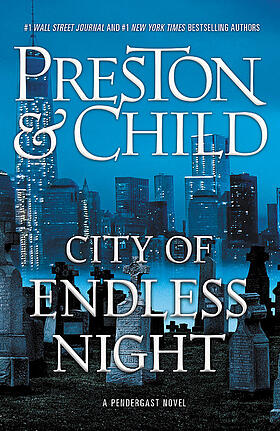 Pendergast is the most interesting lead character on the best seller shelf today. He's mega-rich and it shows. He wears custom suits, he has a chauffer (Proctor), driving him around in the elegant Rolls-Royce Silver Wraith. His Riverside mansion is decorated with the finest of everything. As are his three Dakota apartments. Pendergast is brilliant. He is highly educated and it is evident in the way he speaks. Some are put off by his quirkiness. His boss is definitely put-off by his "lone-wolf" tactics. Pendergast is a character that should never be underestimated. He is full of surprises and there are plenty in this novel to keep readers listening attentively.

Grace Oziman made me think of Paris Hilton. The beautiful, rich, party girl is the daughter of a not so well like techno billionaire. When Grace is found dead...decapitated Pendergast is assigned the case. Together with his long-time friend and fellow investigator Vincent D'Agosta, they delve into Grance Oziman's life - searching for anything to point the investigation in the right direction. Because of her drug use, partying lifestyle, and rich father there's a lengthy list of potential suspects.

When yet another murder victim is found decapitated, Pendergast and D'Agosta realize they are hunting a serial killer. The "Decapitator" has claimed the life of a Nobel Peace Prize winner, an unethical lawyer with ties to the mob and a couple preying on people with upsidedown mortgages. How is the killer selecting his victims? Who will be next?
D'Agosta and Pendergast have solved more than fair share of strange cases over the years. If you're a fan and have followed the series you'll love City of Endless Night. The story doesn't do well as a stand alone. There's minimal backstory covered, so if you're not up-to-speed on the characters you're not going to get caught up here. Preston and Child don't waste alot of time and space familiarizing the reader with history. City of Endless Night showcases Preston and Child's writing and leaves no room for doubt why they are best sellers.
Ever since I listened to a Pendergast novel on Audio, there's been no turning back. I still read the hardcover - But, only after I have listened to the AudioBook on CD. Rene' Auberjonois is an absolutely incredible narrator. The voice inflections, the way he portrays emotion and the attitude he gives Pendergast make him the most enjoyable fictional character on the shelf today. If you have never listened to a Pendergast novel - by all means, grab a copy and get listening...you'll be amazed by Auberjonois' narrative. His voice is like a well concocted spell, that captivates you from the first chapter. It is interesting, exciting and OH so very entertaining! Do not miss City of Endless Night.

Happy
Listening,

RJ
Thank You!
4.5 Stars
View all my reviews