Why To Kill A Mockingbird Matters
What Harper Lee's Book and the Iconic
American Flim Mean To Us Today
written by Tom Santopietro
St. Martin's Press

Synopsis:
Tom Santopietro, an author well-known for his writing about American popular culture, delves into the heart of the beloved classic and shows readers why To Kill a Mockingbird matters more today than ever before.

With 40 million copies sold, To Kill a Mockingbird's poignant but clear eyed examination of human nature has cemented its status as a global classic. Tom Santopietro's new book, Why To Kill a Mockingbird Matters, takes a 360 degree look at the Mockingbird phenomenon both on page and screen.

Santopietro traces the writing of To Kill a Mockingbird, the impact of the Pulitzer Prize, and investigates the claims that Lee's book is actually racist. Here for the first time is the full behind the scenes story regarding the creation of the 1962 film, one which entered the American consciousness in a way that few other films ever have. From the earliest casting sessions to the Oscars and the 50th Anniversary screening at the White House, Santopietro examines exactly what makes the movie and Gregory Peck's unforgettable performance as Atticus Finch so captivating.

As Americans yearn for hope and an end to divisiveness, there is no better time to look at the significance of Harper Lee's book, the film, and all that came after.

My Review:
"It's not a racial novel. . . It's a novel of man's conscience. . .it could happen to anybody, anywhere, people live together." - Harper Lee
Her words ring down through the generations, falling as forcefully as the free-flowing waters of Niagara.

A book that took a decade to write, garnered a Pulitzer for the author, and a career-defining role for one Hollywood A-Lister. Now Tom Santopietro digs deep, peeling away the hype, tugging at the very fibers that bind Lee's work. Searching to answer the lingering question - "Why To Kill A Mockingbird Matters?"
Some five decades after it was first published, To Kill A Mockingbird resonates with some, encourages others, and provides inspiration for still others. But there are those who simply slogged through the book in High School English class and never thought about it again.
So what is the legacy of TKAM? Why does it continue to engage and entertain readers the world over? The topics are timely and relevant. If you didn't know better you would think it was just recently published. Is this why it matters? Or maybe this question cannot be answered by writers and film-makers because it is personal to each individual that reads the book.

For those who haven't read recently published books related to TKAM, there's a lot of surprising, interesting, and down right 'holy-moly I had no idea' moments awaiting you in Why To Kill A Mockingbird Matters. If you're a reader that picks up anything related to TKAM, you quickly realize a substantial amount of this information has been covered. However, not with Santopietro's flowy, easy to read style. Why TKAM Matters should come with a warning - reading this book will open your eyes, answer many of your questions, and cause a nearly uncontrollable urge to read the original book and watch the movie. . .even if you have done both a thousand times.

Just to wet your appetite - did you know Lee's very own Father was the inspiration for her beloved character, Atticus Finch? Or that Dill was based on Lee's Monroeville neighbor, Truman Capote? Yes, the author of In Cold Blood. Santopietro goes behind the curtain and meticulously covers, discusses and critiques the movie. Recounting each scene in near mind-bending detail. Readers will learn film-makers often go way beyond the extra mile to get a scene not just right, but perfect. All that hard work is often lost on popcorn munching movie-goers. After reading Why TKAM Matters I will be watching and listening for all the little nuances this book pointed out.

To Kill A Mockingbird was originally published in 1960, instantly shooting to the top of best-seller lists. The adaptation by Hollywood quickly followed two years later. If numbers represent relevance, the annual sale of 750,000 copies of To Kill A Mockingbird may just reveal more about the current atmosphere of race relations than it does about simply reading an infamous work of literature.

Why To Kill A Mockingbird Matters is very well written, insightful, and highly entertaining. In the final pages, Santopietro reveals inside information and discusses, in-depthly, the back and forths surrounding Go Set A Watchman. Published, unedited by Harper Collins in July 2015, mere months before the death of author Harper Lee. Again Lee's work resulted in controversey. Many questioned the author's mental ability to understand what was happening. Others question how such a work could have gone "undiscovered" for half a century. Santopietro follows every lead - details every conversation.


Tom Santopietro has delivered an unflinching, brilliantly researched novel. He did his homework for sure! Why To Kill A Mockingbird Matters has been asked for nearly sixty years. Is it art imitating life or life disguised as art? That's up to the individual. Whether you loved the original book, hated it, or have never read it, you will enjoy this one. Tom Santopietro's novel is yet another nod to Harper Lee's words. It also serves as a reminder to young and old alike, we have much left to do before we achieve liberty and justice for all.
Happy Reading,

RJ


It has sold more than 40 million copies,
is the most taught work of fiction
by an American writer, and was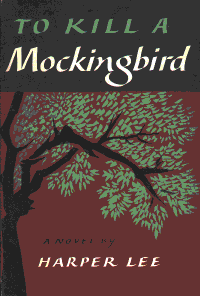 Thank you for the opportunity to read, review, and share "Why To Kill A Mockingbird Matters," by Tom Santopietro.