The Lady Sherlock Series
The Hollow of Fear
written by Sherry Thomas
336 Pages
release date - October 2nd, 2018
Berkley Publishing
click to visit Berkley of FaceBook

My Review:
Charlotte Holmes is a societal outcast. . .gossiped and whispered about. She's not refined, but she is intelligent, charming, and dogged. She has a secret crush on Lord Ingram. However, as long as his cold-as-ice, cut-throat, gold digger wife is in the picture, secret it will have to remain.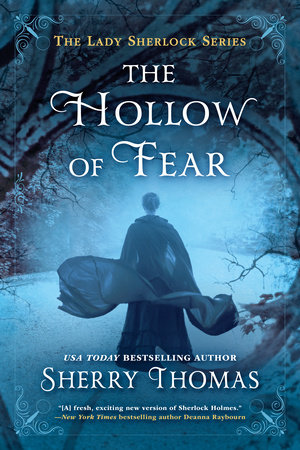 After the big birthday bash for Lady Ingram at the Stern Hollow Estate, the Lady is nowhere to be found. Charlotte's sister, together with two gabby-Gladys town's ladies discovered Lady Ingram's body in the Ice House. (How appropriate.) Of course, Lord Ingram is the prime suspect. Charlotte, understanding Victorian Era ways, disguises herself as Sherringford, Sherlock Holme's brother and sets out to prove the Lord's innocence.
What follows is a mystery within a mystery topped off with murder. Charlotte aka Sherringford uses her superior intellect and exquisite, burning cheeks flirtations to uncover a laundry list of betrayals, scandals, and secrets. Ohhhh - they all have secrets. And Charlotte is making note of them all.

The Hollow of Fear is a good read. At only 336 pages I finished it in one sitting. I just didn't want to stop. (I didn't want it to end either.) I really enjoyed all three books and as a series, I definitely give it a resounding thumbs up. It's a series I will continue to follow that's for sure. The Hollow of Fear is not perfect, but it certainly is fun and entertaining. Basing stories on a famous, beloved, and well-studied character is risky for any writer. Thomas' Sherlock-Like stories are smooth, easy to read, and mostly believable. The pacing is spot on, continually ratcheting-up the suspense, each revelation leading neatly to the next, and the romantic tension could choke a horse. The characters are all well drawn, three dimensional, and easily forge a connection with the reader. Here, Livia is given a chance to step out of the shadows and into her own adventure. (A thread I hope to see sewn into future books.) The handsome, gentlemanly Lord Ingram, with his old-world charms, is more vulnerable than in previous installments. Dear Mrs. Watson is one of my favorites. She doesn't get the spotlight but plays an integral part in every story. Without her, it just wouldn't be as Sherlock Holmesy. Charlotte grows stronger, more mature, and sneakier with each new case. She's a long-term character and I hope Thomas plans to pen stories about her for a very long time.

Note: Even though Thomas provides enough background information to read this book as a stand-alone, you will want to read the others. Three chapters in I realized this was a series I wanted to know fully. So I stopped, checked out A Study in Scarlet Women and A Conspiracy in Belgravia from my library, read those, then returned to The Hollow of Fear.

Happy Reading,



Synopsis:
Under the cover of "Sherlock Holmes, consulting detective," Charlotte Holmes puts her extraordinary powers of deduction to good use. Aided by the capable Mrs. Watson, Charlotte draws those in need to her and makes it her business to know what other people don't. When her dear friend Lord Ingram stands accused of the murder of his estranged wife, Charlotte goes under disguise to help prove his innocence to Scotland Yard.